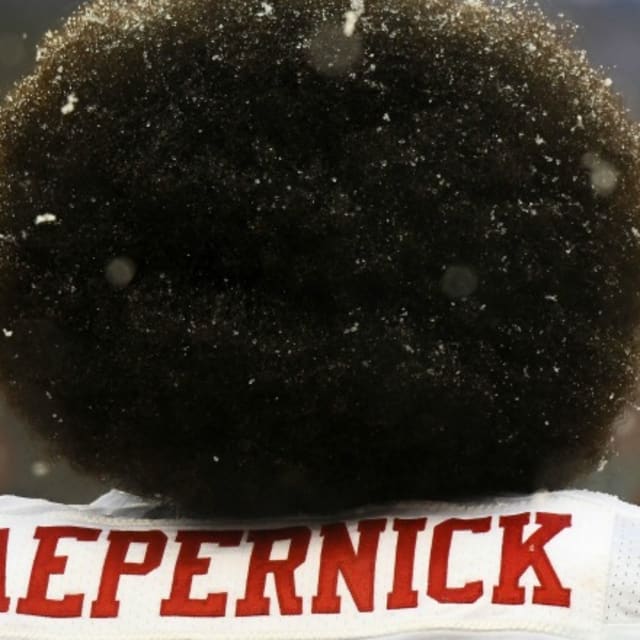 by Jose Martinez via complex.com
Hundreds of people gathered outside NFL headquarters in New York City on Wednesday to show their support for quarterback Colin Kaepernick. With the start of the NFL season nearly two weeks away, Kaepernick remains a free agent, and it's become evident that his current status has more to do with his national anthem protest last season than his skills on the football field.
At the "United We Stand" rally, the large crowd held signs while making sure their voices were heard and their presence was felt. Even Kaepernick's fraternity, Kappa Alpha Psi, came out to support their brother. Derrick Johnson, NAACP interim president and CEO, has sent a letter to NFL commissioner Roger Goodell, requesting a meeting to discuss "the issue of First Amendment rights and free speech issues surrounding players" in the league. Johnson insinuates that Kaepernick's inability to sign with a team has to do with being blackballed by the NFL after taking a stand against racial injustice.
The people won't back down! Right now outside of the NYC NFL headquarters ✊🏾 #ImWithKap https://t.co/cBsudoATKI pic.twitter.com/AceCnKDzqZ

— KnowYourRightsCamp (@yourrightscamp) August 23, 2017
"As outlined in your office's public statement, this act of dissent is well within the National Football League's stated bylaws. Yet, as the NFL season quickly approaches, Mr. Kaepernick has spent an unprecedented amount of time as a free agent, and it is becoming increasingly apparent that this is no sheer coincidence," Johnson wrote. "No player should be victimized and discriminated against because of his exercise of free speech—to do so is in violation of his rights under the Constitution and the NFL's own regulations."
To see full article, go to: People Gather Outside NFL Headquarters to Show Support for Colin Kaepernick | Complex